Advanced Eye Care from one of the Top Optometrists in Tucson
Advanced Eye Care from one of the Top Optometrists in Tucson
At Eye Institute in Tucson, Arizona, Dr. Zie is a recognized leader in optometry by providing excellent comprehensive eye care. Our optometrist specializes in treating a variety of eye problems, including: eye exams, vision correction, glasses, contact lenses, glaucoma, dry eye, red eye, and allergic conjunctivitis. She has the advanced training and experience to help you achieve an improved quality of life – call today for an appointment at 520-585-5717.
"Not the same old boring eye appointment. This office not only has the most cutting edge equipment but through out the appointment Dr. Z and the staff stopped to see if I had any questions or concerns. They make you feel as if you are a guest in their home instead of a customer in a store."
Tucson Optometrist: Advanced Eye Care
Our optometrist at Tucson Eye Institute stays up to date with the rapid progress of medicine and technology, so you benefit from precise diagnoses and optimal treatments. We will thoroughly assess your eyes and offer you a simple, clear explanation of your vision and eye health. We also specialize in managing dry eyes and seasonal eye allergies to help you have the clearest most comfortable eyes possible.
We offer a wide range of products and services to meet the eye care needs of customers of any age. We carry a complete range of high quality eyeglasses and contact lenses. And with top-name brands like LaFont, Guess, Oakley, Maui Jim, Tag Heuer, Banana Republic, Porsche Design, Armani, and other exclusive designs to choose. Our licensed optometrist can help you find the perfect frame to match your budget and lifestyle.
At Tucson Eye Institute, you can rest assured that you will receive personal service in a casual, relaxed atmosphere. Dr. Zie strive to ensure each patient is empowered to make well-informed decisions on the path to improved health and a better quality of life. You deserve to have a sense of well being – call  520-585-5717 today to make an appointment.  Tucson Eye Institute is located at La Cholla Corporate Center, across from the Foothills Mall.
Most major insurance plans accepted, including but not limited to:  VSP (Vision Service Plan), BCBS (Blue Cross Blue Shield), United Healthcare, Cigna, UPH (University Physicians Healthcare), and others.
Tucson Eye Institute, serves the following areas in Arizona:
Tucson, Oro Valley, Marana, Pima County, Southern Arizona, Green Valley, Casa Grand, Benson, Vail, and Florence.
We provide
Eye Exams
Regular eye exams help you protect the only set of eyes you'll ever have. It's not just about glasses and contacts—it's also about early detection of injury, disease, and conditions that threaten your vision, overall health, and quality of life.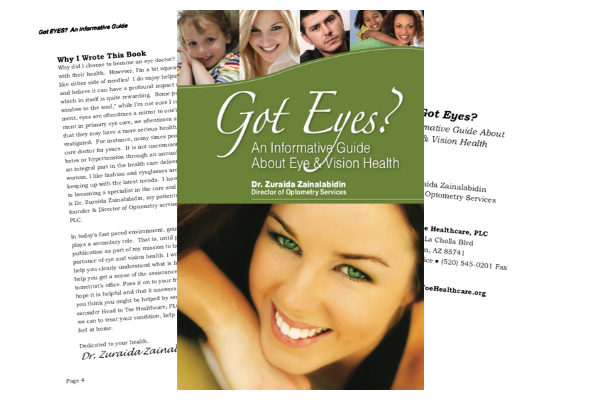 Eyesight complications are a true pain but you don't need to be left in the dark. Our book "Got Eyes?" will help you to better understand common complications that may affect your eyesight.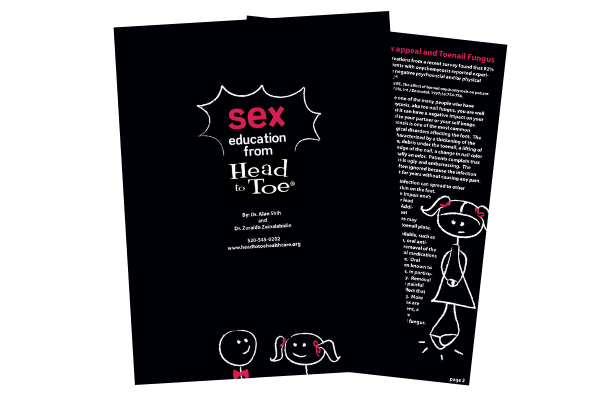 As a subdivision of Head to Toe Healthcare, our goal is to keep you fully educated about your overall health. Take a look at our book to learn more about how foot health plays a role in your sex life.
Tucson Eye Institute is a division of Head to Toe Healthcare, PLC. We're located at the main Head to Toe offices within the La Cholla Corporate Center, across the street from the Foothills Mall.
Office Hours: Monday – Friday 8:00AM – 5:00PM
By Appointment Only: First Saturday of the month from 8:00AM – 2:00PM
A subdivision of Head To Toe Healthcare, PLC
The Tucson Eye Institute is an integral part of Head to Toe Healthcare! Our lead optometrist and her team specialize in treating a variety of eye problems, while right next door, the Tucson Foot & Ankle Institute will help resolve all your foot and ankle care needs! We've got you covered – from head to toe!

Office Hours:
Monday - Friday
8:00AM - 5:00PM
By Appointment Only:
First Saturday of the month from 8:00AM - 2:00PM
Office Hours:
Monday - Friday
8:00AM - 5:00PM
By Appointment Only:
First Saturday of the month from 8:00AM - 2:00PM
Tuscon Eye Institute
7406 N. La Cholla Blvd
Tucson, AZ 85741